Defensive Wounds Model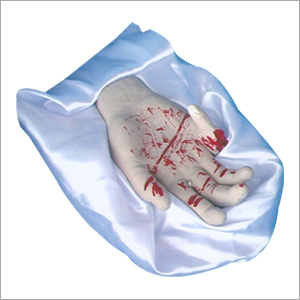 Defensive Wounds Model
Price And Quantity
Product Specifications
Product Description
1. Tatoo Marks over the forearm. Rs. 5000.00
2. Tuft of Hair. Rs. 5000.00
3. Post Mortem Staining. Rs. 6500.00
4. CADAVERIC SPASM : The electric wire
firmly grasped in the hand.
A Case of accidental death from electricity. Rs. 6500.00
5. CADAVERIC SPASM : A razor is firmly grasped
in hand. A case of suicide. Rs. 5000.00
6. Decomposed body of a boy. The cuticle has
peeled off at places. Rs. 6500.00
7. Decomposed body of a male showing
especially blisters. Rs. 6500.00
8. POST MORTEM CHANGES:
Lividity developed over the face causing dark
stains, except where prevented by pressure.
(On the tip of the nose,around the mouth and
over the brow,cheek & chin.) Rs. 6500.00
9. PUTREFACTION:
Green putrefactive Networks: -
Decomposition in air conspicuous green network
corresponding to venous pattern made visible by
diffusion of hemolyzed putrefied blood and sulf
hemoglobin in to tissue forty two hours after natural
death of a 50 Yrs. old man in a room outside temp.
28 degree centigrade. Rs. 7000.00
10. Red brown putrefactive Networks: decomposition
in water, Red brown network pattern due to
staining of veins and diffusion of heomlyzed
blood into adjacent subcutaneous tissues. Rs. 7000.00
11. Model of Marked gaseous swelling of face
eyeballs and tongue producing frog
like appearance. Peeling of epidermis
with exposure of red brown dermis due
to putrefactive hemolysis. Rs. 7000.00
12. ACTION OF MAGGOTS:
Maggots on top of and underneath skin
of the face and chest. Seven days after
natural death of a old man in a warm room.
Maggots are clearly seen under
neath the epidermis. Rs. 7000.00
13. ADIPOCERE :
A fore-arm converted into Adipocere. Rs. 5000.00
14. The adipocere of the leg but feet did not
crumble because they were protected
by socks against the river current. Rs. 6500.00
15. MUMMIFICATION:
Model of porous condition of right hand &
right foot is due to insect activity
prior to mummification. Rs. 6500.00
16. PATTERNS OF FINGER IMPRESSION:
a) Arch b)Loop c) whorl d) Composite (2 types) 4 MODELS. Rs. 8000.00
17. TYPES OF HYMENS:
a) Annular b) Semilunar c) Fimbriated
d) Imperforate e) Cribriform f) Septate
g) Elastic & Distensible h) Normal injury at Coitus
i) Carunculae myritiformes. 9 MODELS. Rs. 10,000.00
ABRASIONS :
18. Abrasion on the face. Rs. 5500.00
19. Abrasions on arm caused by teeth bite. Rs. 5500.00
Abrasion on Fore-arm by scraping against a
concrete road following a cycle accident. Rs. 5500.00
CONTUSIONS ( BRUISES) :
20. Bruise on shoulder showing colour changes
after 4 days. Rs. 5500.00
21. Contusions caused by blows from a blunt
weapon. ( Stick ). Rs. 5500.00
22. Bruise on arm caused by shoe heel. Rs. 5500.00
Trade Information
Cash in Advance (CID), Cash Advance (CA)

15 Per Day
20 Days

Africa, Middle East, Western Europe, Eastern Europe, South America, North America, Central America, Australia, Asia
Contact Us
INA HOUSE, 4-A, RAMESHWAR SHAW ROAD, Kolkata, West Bengal, 700014, India
Phone :+918045802556