Human Embryology Models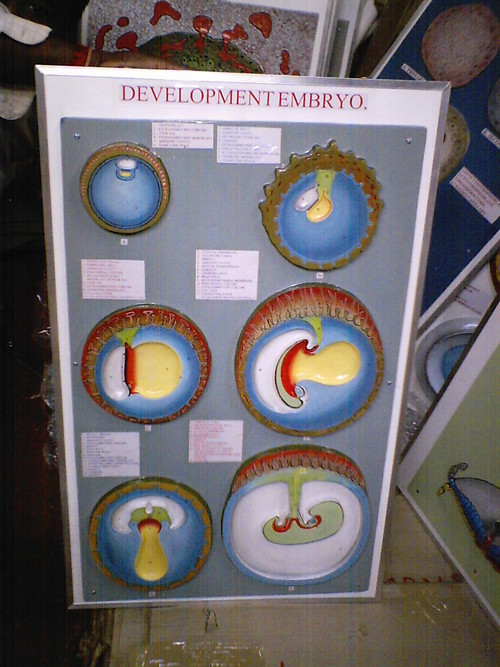 Human Embryology Models
Price And Quantity
Product Specifications
In Science lab

Art and Craft
Plastic and Paper

Rectangle
Product Description
EMBRYOLOGY MODEL
UROGENITAL SYSTEM:
78. T.section through embryos at various stages of
development to show formation of nephric tubules.

79. Relationship of hindgut and cloaca at the end
of the 5the week.

80. Development of the renal pelvis, calyces
and collecting tubules of the metanephros.

81. Development of a metanephic excretory unit.

82. Development of the urogenital sinus into the
urinary bladder and definitive urogenital sinus.

83. T section throught the testis in the 8th week of development.

84. T. section of the ovary at the 7th week of development
showing degeneration of the primitive sex cord.

85. Genital duct in the 6th week of development in the male.

86. Formation of uterus & vagina at various stages.

87. Development of the external genitalia in
the female at 5 months gestation.

88. Descent of testis.

HEAD & NECK:
89. Development of the pharyngeal arches.

90. Pharyngeal pouches as outpocketings of the foregut.

91. Development of the pharyngeal clefts & pouches.

92. Ventral view of the palate, gum, lip & nose.

93. Formation of tooth at successive stages of development.

EAR:
94. Development of Scala tympani and scala vestibuli.

95. Development of organ of corti.

96. Development of semicircular canals.

EYE:
97. Section of the eye of a 7-week embryo.

98. Development of the iris and ciliary body.

99. Transformation of the optic stalk into the optic nerve.

CENTRAL NERVOUS SYSTEM:
100. Dorsal view of a late presomite embryo. of 18 days.

101. Dorsal view of human embryo at aprox. day 22.

102. Various stages of development of a neuroblast.

103. Origion of nerve cell and various type of glial cells.

104. Terminal end of the spinal cord in relation to that of
the vertebral column at various stages of development.

105. Various types of spina bifida.

106. T section through the caudal part of the metencephalon.

107. Saggittal section : development of the cerebellum.

108. Stages in the development of the cerebellar cortex.

109. Development of gyri and sulci on the lateral
surface of the cerebral hemisphere.

110. Formation of sympathetic ganglia.

Trade Information
Cash in Advance (CID), Cash Advance (CA)

15 Per Day
20 Days

Africa, Middle East, Western Europe, Eastern Europe, South America, North America, Central America, Australia, Asia
Contact Us
INA HOUSE, 4-A, RAMESHWAR SHAW ROAD, Kolkata, West Bengal, 700014, India
Phone :+918045802556