PATHOLOGY MODEL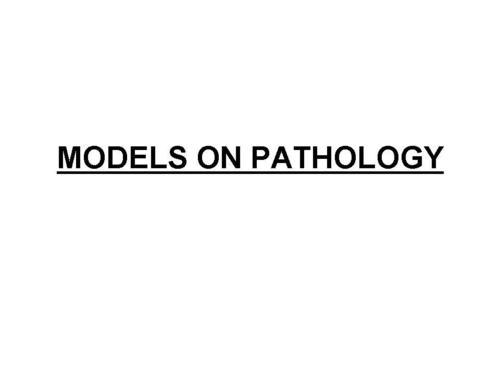 PATHOLOGY MODEL
Price And Quantity
Product Specifications
In Science Lab

Art and Craft
Product Description
DISEASES OF THE FEMALE REPRODUCTIVE SYSTEM
Disease of the Vulva.
101. Dermatoses.
102. Diabetic Vulvitis, Trichomoniasis, moniliasis and Gonorrhea.
103. Syphilis and Genital (Veneral) Warts.
104. Chancroid, Lymphogranuloma Venereum and Granuloma Inguinale.
105. Circulatory Disturbances, Cysts, and Benign Tumors.
106. Malignant Tumors.
Diseases of the Vagina.
107. Congenital Anomalies.
108. Vaginal Atrophy.
109. Cystocele and Rectocele.
110. Trichomoniasis, Moniliasis, Nonspecific Vaginitis & Chemical and Traumatic Vaginitis.
111. Syphilis, Gonorrhea, and Tuberculosis.
112. Cysts and Primary Benign and Malignant Tumors.
113. Malignant Tumors: Metastases and Extension.
114. Endometriosis of the Vulva, the Vagina, and the Cervix.
Diseases of the Uterus.
115. Congenital Anomalies of the uterus.
116. Displacements and Prolapse.
117. Lacerations, Strictures, and Polyps.
118. Endometrial Hyperplasia and Polyps and Tuberculous Endometritis.
119. Cervicitis: Erosions, Moniliasis, Trichomoniasis, and Syphilis.
120. Cervicitis: Gonorrhea and Pyogenic Infections.
121. Leiomyoma (Fibroid).
122. Myoma: Secondary Changes.
123. Sarcoma.
124. Cervical Cancer: Stages and Types.
125. Cancer of the Uterine Corpus: Stages and Types.
126. Functional and Pathologic Causes of Uterine Bleeding.
Diseases of the Fallopian Tubes.
127. Acute Salpingitis: Pathways of Infection and Parametritis.
128. Acute Salpingitis: Pyosalpinx.
129. Pelvic Peritonitis: Abscess.
130. Tubo-ovarian Abscess.
131. Tuberculosis.
132. Salpingitis Isthmica Nodosa and Carcinoma.
Diseases of the Ovary.
133. Developmental Abnormalities.
134. Physiologic Variations and Nonneoplastic Cysts.
135. Endometriosis of the Pelvis.
136. Serous Cystoma and Serous Cystadenoma.
137. Papillary Serous Cystadenoma.
138. Mucinous Cystadenoma.
139. Teratoma: Dermoid Cyst and Solid Teratoma.
140. Feminizing Neoplasms: Granulosa Cell Tumor and Theca Cell Tumor.
141. Masculinizing Neoplasms: Arrhenoblastoma and Adrenal Rest Tumor.
142. Stein-Leventhal Syndrome.
143. Dysgerminoma and Bernner Tumor.
144. Stromatogenous Neoplasms: Fibroma, Meigs Syndrome, and Sarcoma.
145. Primary Cystic Carcinoma.
146. Primary Solid Carcinoma.
147. Secondary Ovarian Carcinoma.
Trade Information
Cash Advance (CA), Cash in Advance (CID)

15 Per Day
20 Days

Asia, Australia, Central America, North America, South America, Eastern Europe, Western Europe, Middle East, Africa
Contact Us
INA HOUSE, 4-A, RAMESHWAR SHAW ROAD, Kolkata, West Bengal, 700014, India
Phone :+918045802556